Our Top 10 tips and tricks from The Disco Team
Power your hair in between salon visits!
TIP #1
Have a small towel and comb in the shower with you so that you can lightly towel dry your hair before applying a treatment. Removing excess water and combing the treatment through so that it reaches all areas of your hair = voila…instant luxury.
TIP #2
To keep your wave/curls in overnight, sleep with your hair in a shower cap or hair net. If you're worried you'll lose out on the romance front, opt for a loose plait or braid instead…just make sure it's not too tight or you'll get those bends we all had in primary school after wearing wet plaits to bed.
TIP #3
Use a scalp exfoliant product at home for a healthier scalp (once a week). This will promotes hair growth, unclogs hair follicles and removes product build up and dead skin cells. A must for everyone!
TIP #4
Try not to shampoo your hair for 48 hours after a colour service to improve the longevity of the colour.
TIP #5
If you want to grow your hair longer, regular trims will actually benefit the growth by getting rid of damaged split ends. If you are prone to split ends or use heat styling tools frequently, consider a hair sealing product such as Perfect Ends to help prevent them happening in the first place.
TIP #6
Sleeping on a silk pillowcase helps to control frizz and bed head the morning after. It also benefits your skin and is a dream to sleep on.
TIP #7
Avoid using conditioner on your roots, as it can make the hair oily quicker. Work it through your mid lengths and ends only and rinse well to remove any residue product.
TIP #8
Using a dry product such as Instant Reset or Instant Energy after a blowdry will make your style last longer.
TIP #9
Beware of wearing hair ties that are too tight, as they can cause hair breakage. Instead, channel your inner 80s and wear a SCRUNCHIE! These little retro gems are really good for those who wear their hair up all the time, as they don't snag and aren't too tight. Plus, you can also wear them to bed!
TIP #10
Speak to your expert Disco hairdresser about which are the right hair products for you to use at home in between salon visits. Just had a beautiful balayage? A shampoo and conditioner for coloured hair is a must to prevent fading. Suffer from dry or dehydrated locks? Grab an at-home treatment with nourishing ingredients to make your locks smooth and soft to touch.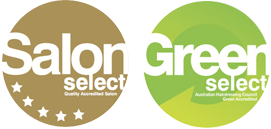 The Disco Salon has recently been awarded the Certificate of Positive Impact by Sustainable Salons for its commitment to sustainability. Find out more..